Fantastic Picnic at the hotel les Sept Fontaines on Sunday, September 12 !
Enjoy a lunch in the open air in Tournus on the hotel terrace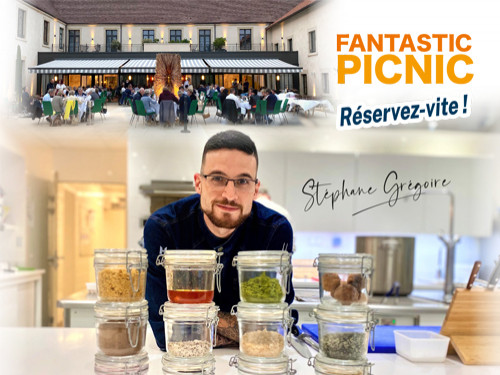 Fantastic Picnic Sunday September 12th 12 pm-2.30pm, book quickly!
49€/personne excluding drinks
On the program on the Sept Fontaines terrace
Special "cooking Show" menu produced by our Chef Stéphane Grégoire
Thai salad, Charolais beef tataki
Crayfish in giozza and Thai broth
Lacquered veal breast and baker's apple, spicy penko
Cheese platter from Chevenet cheese dairy
Blackcurrant and black sesame verrine
Wine tasting by a local producer.
Menu made from products from regional producers: Vegetables from the Abbey Orchard in Tournus, veal: Ethical Beef.
Book quickly on 03 85 36 06 06 or by email contact@hotel-les7fontaines.com